The
First Round
(also known as the
500 Million Game
in the
Korean drama
) is the first round of the
Liar Game Tournament
. The details of the game is sent personally to the players via cards. This game marks the beginning of a player's involvement in the
Liar Game Tournament
. Winners of this game proceed onto
Round II
.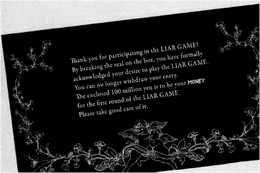 Game Outline
Edit
All players are sent a suitcase containing 100 million yen and are told to protect it from their assigned opponent. No dealers are used in this game as players are contacted by the Liar Game Office via cards. Once the player opens the suitcase with the 100 million yen inside, it is taken as a sign that they agree to participate in the tournament.
Players are assigned opponents, and they must do whatever they can to steal as much of the 100 million yen from their opponent as they can. As money is stolen the players are updated with the results. The game lasts for one month, and players are told the exact time the game ends a few days prior to the final day.
Ad blocker interference detected!
Wikia is a free-to-use site that makes money from advertising. We have a modified experience for viewers using ad blockers

Wikia is not accessible if you've made further modifications. Remove the custom ad blocker rule(s) and the page will load as expected.