A respresentative is a person who participates in the Liar Game Tournament in someone else's stead. This may be done for various reasons, but the representative must have the original player's consent. With representatives, it is possible for someone unrelated to the tournament to begin participating.
Conditions
Edit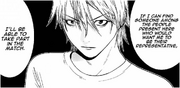 There are a few conditions to being a representative:
The representative must have the player's permission.
The representative must show the round's invitation postcard to an LGT attendant.
All profits or losses do not affect the original player, but affect the representative. This means that all debts apply to the representative.
It is possible for a representative to shoulder the original player's current debts.
If the representative chooses to drop out of the tournament, the original player must participate themselves again
It is possible to for a person to just appear at the site of a round and ask players if they want to be represented.
Representatives
Edit
These are the players who are playing as representatives: