Nicknamed "Butch" or "Muscles".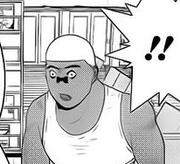 He ends up in Stage A with Harimoto's group, Akiyama and Nao. He ends the first bidding round with no cards. After Harimoto and Akiyama discard five card each he bids on one of the lots with 300 coins but is out bid by Mikamoto by one gold coin. The original amount he was supposed to bid was 231 coins but Kawai was told to bid 300 coins by Akiyama as he knew Harimoto would not keep his word. He later gets told by Nao that he will be saved, but Akiyama doesn't bid on a card he said he would, leading Kawai to think that he was duped. He runs to Harimoto's group and begs to be saved. He gives them information about an alliance between Taninaka and Saeki and Kimura tells him to go find more information. He is promised five cards in exchange for information. 
Ad blocker interference detected!
Wikia is a free-to-use site that makes money from advertising. We have a modified experience for viewers using ad blockers

Wikia is not accessible if you've made further modifications. Remove the custom ad blocker rule(s) and the page will load as expected.