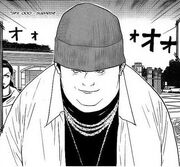 Nicknamed "Fatso"
Appearance
Edit
Ikezawa has short dark hair and wears a orange tuque. He is a large man, earning him the nickname "Fatso". He is seen wearing a white collared button up shirt, black shirt and loose pants. He also wears several chains of jewelery around his neck. 
Joined with Yokoya's group. Throughout the rounds under Yokoya's orders he gives alway his medals to earn to the Gaya's support, claiming that he will be the final winner. In the period 11 he is voted in leader and destroyed chair #19, one belonging to the Harimoto group. Period 12 he is voted in again and elects to destroy chair #1, one belonging to the Akiyama group. Period 13 he is voted in a third time in a row and destroys chair #25, Harimoto group's chair. Period 14 he is leader and he nullifies chair #20, Akiyama's chair. Period 17 he destroys chair #9, Harimoto's chair; this breaches the partial truce between Akiyama's and Harimoto's groups. At the end of the fourth round Ikezawa is left the winner but collects no money as he had none of his own medals. 
Ad blocker interference detected!
Wikia is a free-to-use site that makes money from advertising. We have a modified experience for viewers using ad blockers

Wikia is not accessible if you've made further modifications. Remove the custom ad blocker rule(s) and the page will load as expected.