Akiyama Michiko
is
Shinichi's
mother.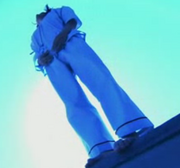 While raising Akiyama, they were poor to the point where she had to work multiple jobs, but she encouraged him to do his best nonetheless. She bears a strong resemblance to
Kanzaki Nao
in terms of how honest she is; she foolishly believed the MLM corporation's lies and was forced to commit suicide to repay the debt. She appears in the manga and drama during flashbacks regarding Shinichi's past, told to Nao by
Tanimura Teruo
 in the manga and
Tanimura Mitsuo
 in the drama.
Ad blocker interference detected!
Wikia is a free-to-use site that makes money from advertising. We have a modified experience for viewers using ad blockers

Wikia is not accessible if you've made further modifications. Remove the custom ad blocker rule(s) and the page will load as expected.